Un après-midi d'avril, une terrasse ensoleillée, quelques clopes, trop de vin, beaucoup de chaleur et Chris Evans plein les souvenirs.
(PS : mini spoiler alert)
Djay – « Salut meuf ! Bah t'en tires une tête, ça va pas ? On t'a diagnostiqué un deuxième cancer ?
Kim – Si seulement. Je me remets d'un petit chagrin cinématographique…
D – Ah oui, le nouveau clip de Dame Riri ?
K – No… Euh oui, aussi. Mais présentement : Civil putain de War.
D – Aaaaah oui. Pareil pour moi, sauf que mon addiction au Xanax camoufle mes affres émotionnelles, hihi.
K – Tu l'as vu ? T'en as pensé quoi ?
D – Je t'avoue que le plaisir s'est presque vu gâté par les couinements de jeunes filles en fleur assises à côté de moi – de l'avantage d'avoir plus de 25 ans : tu dépasses le stade du fangirling hystérico-expressif pour entrer dans l'ère du fangirling dépressivo-introspectif -. Mais j'admets, j'ai grave kiffé. Pas facile de se remettre du Civil War blues.
K – Ouais, trop d'attente pour un seul film.
D – L'expectative du retour du Prophète n'a rien à lui envier. Tu te rappelles il y a deux ans déjà ? Les teasings et théories fumeuses sur les raisons de la rupture entre Steve Rogers et Tony Stark ?
K – Ah ouais ! Je me souviens surtout des crises de rire occasionnées par le même Civil War… Et l'annonce du premier trailer ?
D – Comment oublier ! J'étais à Berlin, 02h00 du mat'. Je zonais sur Twitter et là, ma Timeline s'est enflammée. « Your Bucky« …
K – Ce trailer, bon dieu : l'excitation des retrouvailles, la monté d'angoisse orchestrée par la BO de Dean Valentine et le climax apocalyptique : « I wouldn't do it if I had any other choice. But He's my friend. » « So was I. » (crise de larmes)
D – … Quand j'ai appris que le casting était à Berlin pour le tournage, j'ai frisé la syncope…. Scarlett, Sebastian, Anthony et Chris en train de respirer le même air que moi… C'en était trop….
K – … L'ajout des nouveaux super-héros : Black Panther, Ant-Man, SpiderFuckingMan…
D – … Obligée de passer les 30 heures suivantes au Berghain pour m'en remettre…
(deux minutes de silence, en plein fantasme)
K – Finalement, l'attente n'a fait qu'amplifier la seule question qui vaille : Civil War allait-il réussir à tenir la comparaison – voir détrôner –  The Winter Soldier, le meilleur Marvel jusque-là proposé ?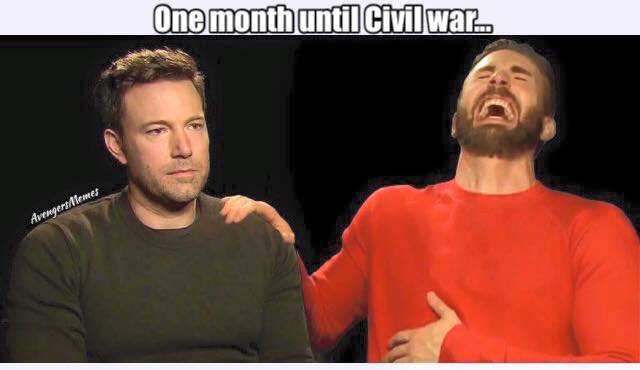 D – Tu sais, on pourrait faire le jeu de la facilité et déclarer que Civil War est un très bon film – du genre et en général – juste par lui-même. Mais ça me paraît plus marrant de souligner ses innombrables qualités en le comparant avec un autre blockbuster où les gentils s'entre-déchirent, Batman v Superman: Dawn of Justice.
K – Rude, la concurrence. LOL.
D – En y réfléchissant, la dynamique de base est la même dans les deux opus : fini le temps de l'adolescence insolente de nos insouciants héros, âge d'or où la planète se résumait à une plateforme de jeu géante. L'ingérence est punie par le droit public international, les destructions coûtent des milliards et les frasques acrobatiques de nos chéris en moule-burnes coûtent la vie à beaucoup. Âge adulte oblige, les dommages collatéraux se muent en chape de plomb pour la conscience : ce retour de flamme d'une réalité vitriolée est le point de départ des deux films. Sauf que…
K – Sauf que Dawn of Justice n'en fait rien. Ce n'est qu'un prétexte à l'heure finale de combats et de destructions abêtissants.
D – Oui, Zack Snyder n'est pas les frangins Russo…
K – Ah ça, on est bien d'accord ! Même pas besoin de mentionner le casting, le rythme ou le scénario ; arrêtons-nous sur les batailles. Lourdeur abrutissante pour l'un, intimisme gracieux pour l'autre. Comme pour son grand frère, Civil War est une leçon de montage sur-chorégraphié, chaque combat tenant plus du ballet que de l'explosion bourrine. Le spectateur n'est jamais hébété mais nerveusement tenu aux aguets. Un peu comme pour cette valse entre Steve et le Soldat d'Hiver (sort son portable) :
D – Pareil pour le traitement du méchant. Continuons la comparaison avec Dawn Of Justice. Il y a un énorme potentiel chez les deux personnages, très différents néanmoins : l'excentricité et la folie pleinement exprimées chez Lex Luthor – merci à l'interprétation de Jesse Eisenberg, ça aurait pu friser le ridicule -, la vengeance et la fureur sourdes chez Daniel Brühl.
K – Même physiquement, ils sont intéressants. Ce ne sont pas des monstres de testostérone, mais deux acteurs capables d'aussi bien jouer le geek associable et weird au 3ème degré que l'alpha mâle racé de type « Fierté de la Nation » – surtout pour Brühl.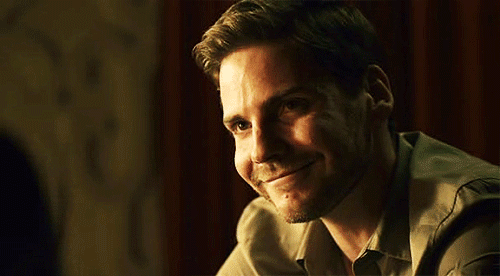 D – Tout à fait. Sauf que l'abysse qui sépare les motivations des deux appuie encore une fois la qualité de Civil War en comparaison de Dawn Of Justice. .
K – Oui, les raisons pseudo-machiavéliques de Luthor ne sont que prétextes pour faire avancer l'œuvre jusqu'à son point d'orgue. Ses aspirations sont faciles, décevantes et attendues (un gamin à qui on aurait enlevé son hochet) : à la morne lumière de cette imposture, l'obsession meurtrière de Batman à l'encontre de Superman devient suspecte, peu crédible et la réconciliation soudaine des deux héros se base sur un motif d'un degré de psychanalyse proche de 0. Cerise sur le gâteau, Snyder ose un Diable Ex Machina final agaçant, éreintant et hors de propos. Tout l'inverse se déroule dans Civil War, entre autre parce que le méchant déploie une persona et un dessein bien plus pervers, complexes, et entraîne donc nos héros sur une pente vertigineusement destructrice. Deutschland über alles, comme on dit.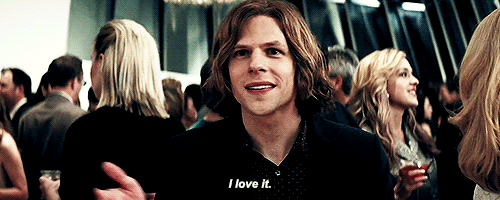 D – Étonnement pour un Marvel, Civil War fonctionne par sa noirceur et sa subtilité. Il y a quelque chose de vicieux dans son déroulement, un sale et faux espoir. Perso, j'ai même vraiment cru à une réconciliation finale. Tu te souviens de Don Cheadle citant Shakespeare pendant l'avant-première ? « There's something rotten in the State of Denmark », et ce malgré le tape à l'œil, le foisonnement du bestiaire à super-pouvoir et la légèreté humoristique de personnages qui finissent par ne plus vraiment y croire et commencent à réellement considérer la possibilité d'une fin. On rigole, mais en vrai, est-on toujours amis ?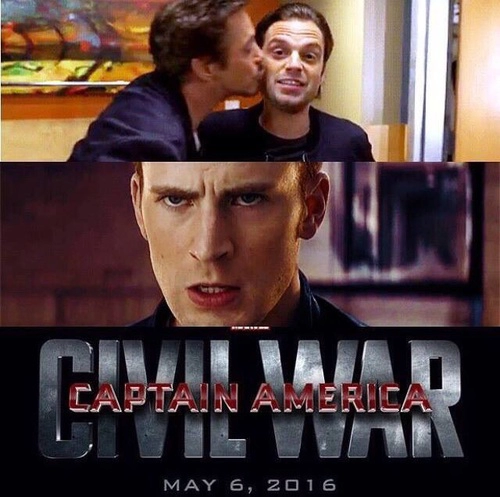 K – Par contre, on est d'accord : Team Cap !
D – Mouais…
K – WAS ???!!!!
D – Ouais, je sais pas. Avant de voir le film j'étais carrément Team Cap. Mais maintenant…
K – Maintenant quoi ?
D – Pas certaine. Ok, Tony Stark et Captain America représentent deux polarités opposées chez Marvel ; l'affrontement était inévitable. Tu te rappelles des chamailleries déjà très virulentes dans Avengers où Steve Rogers reprochait à Tony sa propension à s'extirper de toute situation par une pirouette ? Dans l'Ère d'Ultron, il insiste sur l'incapacité de Stark à s'arrêter, quitte à mettre en péril sa team – et au passage l'humanité. Mais dans Civil War, la situation s'inverse : c'est Tony Stark qui accepte et même encourage l'encadrement que l'ONU veut leur imposer – quitte à restreindre l'existence même d'autres super-héros. Civil War est une guerre d'Hommes : entrant tardivement dans l'âge adulte, le gamin surdoué et turbulent Stark se voit rongé par la culpabilité des morts collatérales ; mais plutôt que de s'échapper par une pirouette, il décide tant bien que mal d'affronter ses responsabilités.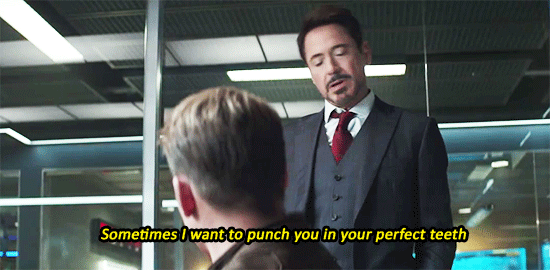 K – Ouais. Ou tout simplement, il admet son addiction au combat, au rush, au statut de super-héros, à l'émulation (entendu dans le film : « je ne suis pas capable de m'arrêter ») :  est-ce que tous les « enhanced », même les plus droits et vertueux, doivent pâtir de ses lubies monomaniaques ?
D – Peut-être. Mais il y a quelque chose de touchant dans cette volonté de se responsabiliser, de composer avec ses affres personnelles et une situation géopolitique toujours au plus mal, même si la mise en place est discutable. L'Ère d'Ultron était vraiment l'ère du caprice, et l'ado insupportable Ultron n'était qu'un double à peine plus extrême que Tony. Là, c'est l'âge de raison. Alors que de son côté, Steve reste buté sur sa ligne de défense.
K – Logique. La possibilité du choix est prépondérante pour lui, alors que Tony pousse au transfert de capacité: je ne trouve pas que cela soit de la maturité, c'est du dédouanement déguisé. Et comme déjà montré dans The Winter Soldier, Steve fait confiance aux hommes, pas aux institutions. C'est un peu Jack Bauer édition 1945.
D – Ok, mais reste-t-il sur ses positions par défiance pour la capacité de toute instance nationale à prendre de bonnes décisions – logique, traduction personnifiée de la défiance historique américaine envers l'institution étatique -, ou ses motivations réelles sont-elles moins philanthropes ?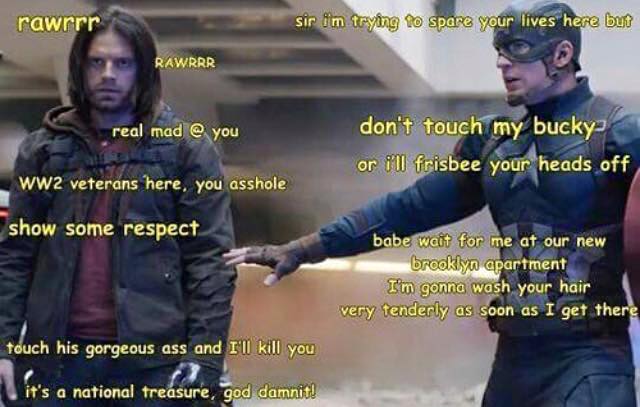 K – Exemple ?
D – Le fait qu'il soit incapable – comme Tony finalement – de vivre sans guerre. Ultron l'avait lui-même fort exactement remarqué (« Captain America… God's righteous man. Pretending you could live without a war. I can't physically throw up in my mouth, but-« ). C'est un soldat, LE soldat, d'où la difficulté de reprendre le personnage : c'est une allégorie. Ajoute à cette nature son amour démesuré pour le tellement-dépressif-que-j'ai-failli-lâcher-ma-larmiche Bucky Barnes, et là… Mais ça je peux totalement le comprendre.
K – Mais Bucky est finalement une victime. Il est du bon côté tout de même…
D – Ouais, mais lorsque Steve le retrouve au début du film, il n'en sait rien. Il défie les autorités, provoque une scission profonde, risque l'implosion chez les Avengers, et finit surtout par mentir à Tony – lui qui fut la droiture personnifiée, incapable de mensonge -, tout cela pour préserver Bucky – et se préserver lui-même, par extension. Sebastian Stan disait : « Bucky is Cap's emotional core. He's the only one Cap has been close to and he gives Cap a home« . Il y a finalement quelque chose de très égocentrique et absolutiste dans sa démarche ainsi que dans l'amour porté. D'où d'ailleurs, toute la beauté du final.
K – Pas faux, et j'ai hâte de lire les fan-fics sur le sujet. Comme tu l'as remarqué, au contraire de Dawn Of Justice, le titanesque affrontement final est promis mais ne sera pas celui attendu. Les héros sont émotionnellement instables : ils perdent deux figures amoureuses/maternelles – et d'ailleurs, leur comportement durant tout le film peut être compris sous le prisme des trois femmes qu'ils ont le plus aimées. Tony veut récupérer Pepper en encadrant ses « mauvais penchants », Steve se bat pour la seule personne le rattachant à son passé, quitte à détruire sa famille présente. Tous les deux passent d'une bataille idéologique quant à la survie de l'humanité à un déchirement trouvant sa source dans l'amour : amour filial pour l'un, amour fraterno-amoureux pour l'autre, ressentiment et jalousie fratricides des deux côtés. Humains trop humains, les super-héros ».
Note finale :
– Scénario : 8/10 (génie des frères Russo oblige : sens de l'écriture, montage sans répit, rythme, intrigues et twist final. Du grand entertainement)
– Combat : 10/10 (chorégraphiés comme jamais, un régal pour les mirettes)
– Sexitude : 32/10 (pas besoin d'expliciter. Mention spéciale aux petits nouveaux Black Panther et Dani Brühl)
– Love story : 40/10 (le duo le plus sexy du bestiaire éthéro-but-shits-happen made in Tumblr est de retour. À vos mouchoirs, dans tous les sens du terme)
– Larme : 56/10 (c'est tragique, c'est Shakespearien, ça fait chialer dans les chaumières, vous laisse avec un goût doux amer et votre désespoir pour compagnon)
– LOL : 12/10 (mention spéciale à Spiderman, Ant-Man et les BFFs Bucky/Falcon)